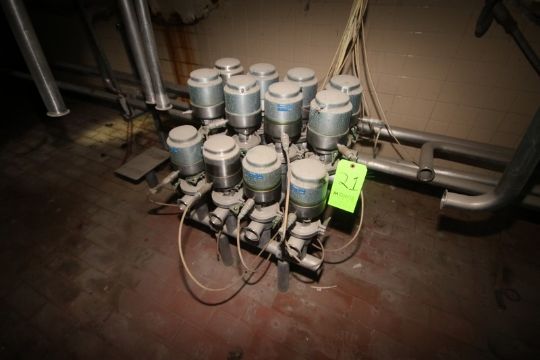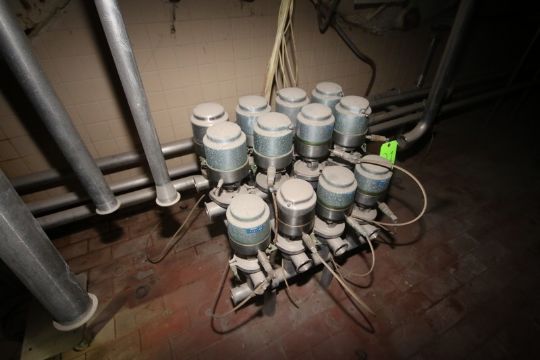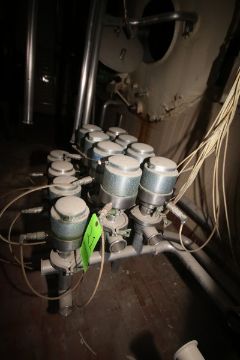 Click on the image to see full size
Use mouse wheel or two fingers to zoom in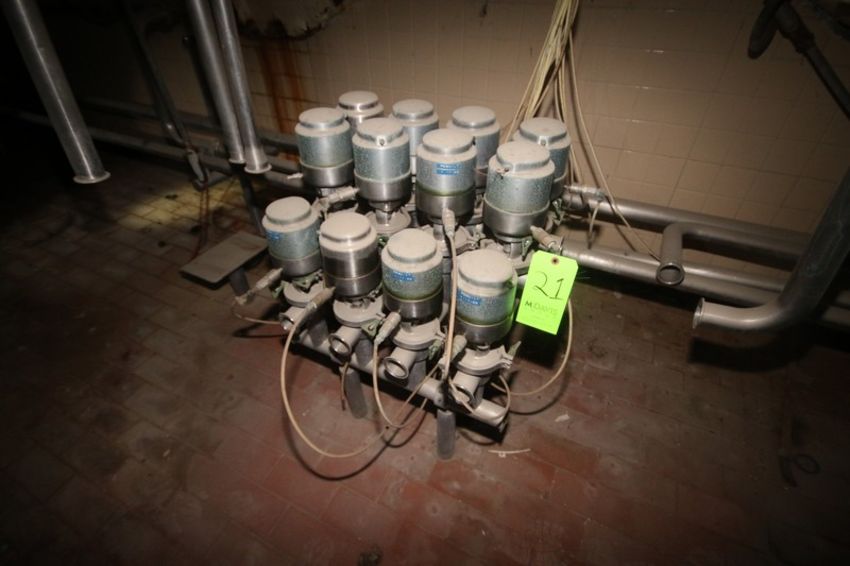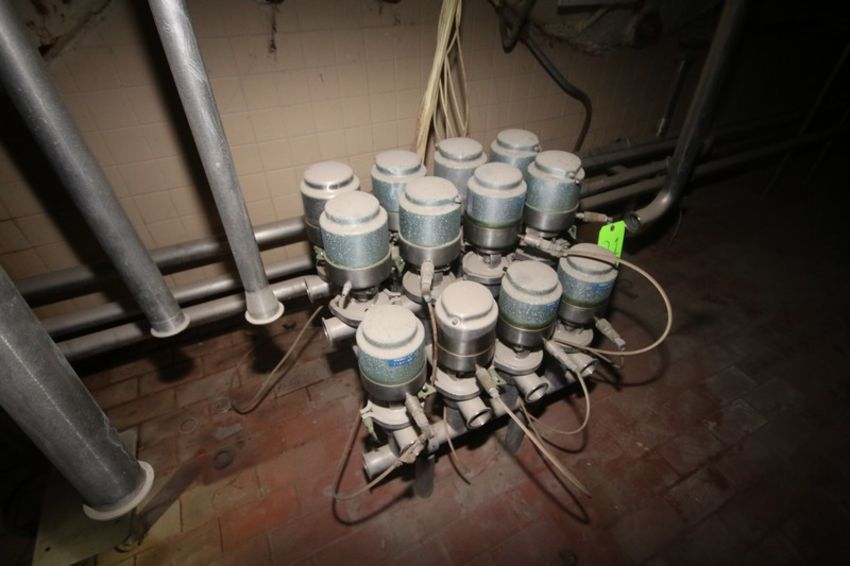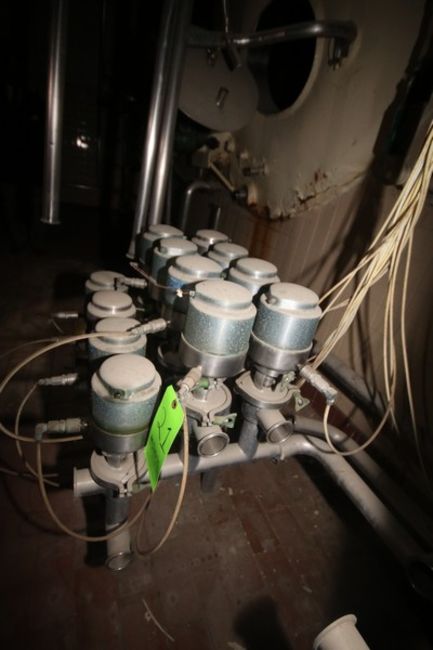 Please confirm purchase
You are about to buy this lot for
0
USD
Bids do not include VAT, buyer's premium or delivery.
Clicking the confirm button is legally binding obligation to buy and pay for the lot should your bid be successful.
Proceed With Buy It Now?
We have noticed that your maximum bid is higher or equal to the buy it now price for this lot.
Would you like to discard your maximum bid and proceed with the buy it now option?
Timed auction
Lot location
Muenster, Texas
Cluster of (12) 2" Clamp Type S/S Air Valves (LOCATED IN Muenster, TX)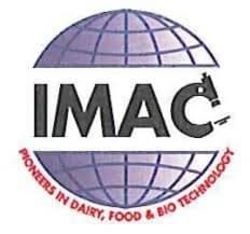 TERMS OF SALE
NOTICE: All potential bidders participating in this sale agree that they have read and have full knowledge of these terms and agree to be bound thereby.
COMPLIANCE WITH TERMS OF SALE: In default of payment of bills in full within the time therein specified, the Auctioneer in addition to all other remedies allowed by law may retain all monies received as deposit or otherwise, as liquidated damages. Items not paid for and removed within the time allowed herein may be resold at public or private sale without further notice, and any deficiency, together with all expenses and charges of re-sale, will be charged to the defaulting purchaser. Your participation and bidding are considered a LEGALLY BINDING CONTRACT.
ONLINE BIDDING: This auction will require a credit card deposit. Your credit card added through the Bidspotter.com fully secure and PCI compliant registration process will be charged a refundable deposit equal to 25% of anticipated purchases, $2,500.00 minimum in order to be approved to bid within the auction. If you would like to make alternate arrangements for this deposit, please call our office at 412-521-5751. NO ONE WILL BE APPROVED WITHOUT A DEPOSIT. When bidding online, the Buyer's Premium is 18%.
CREDIT CARD PAYMENTS: Payments via credit card are accepted up to $20,000 final invoice total in addition to a 4% credit card fee. Any invoice total larger than $20,000 must be paid by wire transfer or certified check. Your deposit including the 4% credit card fee may be applied to your final invoice amount, even if your final invoice is larger than $20,000. Additional payments may be taken from the active credit card.
OTHER METHODS OF PAYMENT: Total payments are to be received within 24 hours following the auction in cash, cashier`s check or wired funds. Payments by check require a seven business day holding period before related equipment can be removed. International buyers must pay in cash or wire transfer.
TAXES: BUYERS ARE RESPONSIBLE FOR PAYING STATE, LOCAL, FEDERAL SALES / USE TAXES, & VAT OR SIMILAR TAXES. Buyer is responsible for any costs, fees and documentation relating to cross border transactions including customs and duties charges.
TERMS OF REMOVAL: Rigging Fees will Apply. A defined schedule for removal will be posted and adhered to for the sale. No item can, on any account, be removed during the sale. Removal shall be at the expense, risk and liability of the purchaser, including, without limitation, any liability for damages to the premises or damages as a result of the release of any hazardous or toxic materials. The purchaser agrees to comply with all applicable federal, state and local governmental safety standards in removing items purchased. Purchases may be removed only on presentation of a paid bill for all items sold to the same buyer. Auctioneer shall not be responsible for goods not removed within the time allowed. All purchases made at this sale are at the purchaser`s risk as soon as they are announced sold by the Auctioneer. The Auctioneer and principal(s) shall have no liability for any loss or damage to items for any reason whatsoever once announced sold. Removal of all purchased items are at the expense, risk and liability of the purchaser. M. Davis Group, LLC bears no responsibility for such rigging/removal. FOR BUYERS WHO INTEND TO SHIP PURCHASES INTERNATIONALLY, THE BUYER IS RESPONSIBLE FOR COMPLETING ANY PAPERWORK THAT MAY BE REQUIRED FOR SHIPPING/CROSSING OVER INTERNATIONAL BORDER(S).
CLAIMS: No claims will be allowed after removal of goods from the sale premises.
CONDITION OF ARTICLES SOLD: The Auctioneer shall not be responsible for the correct description, genuineness, authenticity of, or defect in any lot, and makes no warranty in connection therewith. No sale will be set aside nor allowance made on account of any incorrectness, error in cataloguing, or any imperfection not noted. No deduction allowed on damaged articles, all goods being exposed for public exhibition, and sold "as is," "where is" and "with all faults."
ADDITION TO OR WITHDRAWAL FROM SALE: The Auctioneer reserves the right to withdraw from sale any of the property listed or to sell at this sale property not listed, and also reserves the right to group one or more lots into one or more selling lots or to subdivide into two or more selling lots. Whenever the best interest of the principal(s) will be served, the auctioneer reserves the right to sell all the property listed, in bulk.
ADDITIONAL TERMS AND CONDITIONS—The Auctioneer may add other terms and conditions of sale, such additional terms and conditions to be announced prior to the auction.
SEVERABILITY. If any provision of these Terms of Sale is held to be illegal, invalid or unenforceable in whole or in part, the legality, validity and enforceability of the remaining provisions shall not be affected.
Buyers are not only responsible for paying state, local and federal sales tax but also any VAT or similar taxes.
Terms of Removal:
Buyer's are permitted to conduct their own removal. If a buyer is interested in conducting their own removal, they must be approved by M. Davis Group & the Seller. If you are interested in being approved, you must submit the following information:

Appropriate Certificate of Insurance
Dates in which you plan to conduct removal
For more information, please call us to discuss 412-521-5751

There are (2) pre-approved rigging companies which you may hire for removal. These groups are as follows:

JMOR Inc.

Masten Palmer
817-913-4088

Able Machinery Movers Inc.
Please reach out to JMOR Inc. and/or Able Machinery Movers Inc. for pricing.
INSPECTIONS WILL BE BY APPOINTMENT ONLY. ****GUESTS WILL BE REQUIRED TO WEAR A MASK AND PRACTICE PHYSICAL DISTANCING***** CALL TOMMY PAULONE TO SCHEDULE YOUR APPOINTMENT @ 724-771-7721
INSPECTION DATES:
MUENSTER, TX - DEC. 1ST FROM 9:30AM - 3:30PM CST

OKLAHOMA CITY, OK - DEC. 2ND FROM 9:30AM - 3:30PM CST
=====================================================
BidSpotter Customer Service Support Department
Have a question pertaining to the bidding process?
Visit our Frequently Asked Questions!
You can also start a live chat with a Bidspotter Support Representative by selecting Live Chat at the top of Bidspotter.com. More information on our chat system can be found by clicking here.
Customer Support Hours:
Monday – Thursday, 8:00 AM ET – 10:00 PM ET
Friday, 8:00 AM ET – 6:30 PM ET
Email: support@bidspotter.com